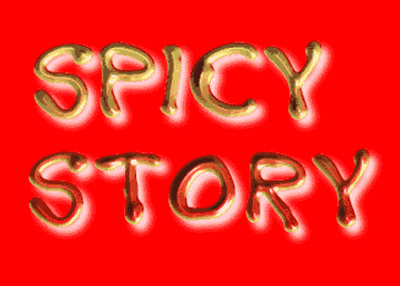 There's more to being a DJ than entertaining a nation with your natural charm, verbal humour and fantastic musical taste. We're also benevolent icons of our industry, seeking out new talent and encouraging promising acts.
Did you know, for instance, that we are solely responsible for the massive worldwide success of the Spice Girls? We discovered them!
That's right. In the early seventies, while we were developing the format of our hugely successful Breakfast Experience, we staggered into a cocktail bar in Melbourne and witnessed the future of pop. They were five gorgeous waitresses when we saw them. We picked them up and turned them around – in more ways than one! In fact we turned them into something new. We turned them into THE SPICE GIRLS.
They weren't called the Spice Girls way back then. They were the Herb Birds. There was Garden Herb, Dried Herb, Mixed Herb, French Herb (she preferred Herb de Provence) and Herb-Peas (bit of a sore point, that name. It proved tricky to get rid of). In their tight-fitting hot-pants and sequin boob tubes we saw enormous potential, and signed them up to a fifty year management contract on the spot. Of course, the acne's nearly all cleared up now, so it's difficult to say which spot it was it was, but it was big enough for us all to write our names on, which is all that's needed really. Years later we accused Scary Spice of putting the squeeze on our contract, but that's another story.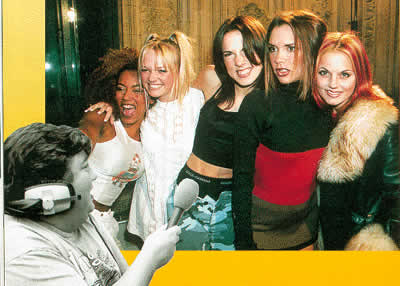 After managing a long and successful club career including two summer spells in Blackpool and an Armed Forces gig on the Falkland Islands, we secured them a contract dubbing the songs in a number of feature films, including timeless classics such as Hello Dolly, The Sound of Music, The Exorcist and Teletubbies – The Movie. Secrecy was imperative – we wanted to keep their true identity hidden until the world was ready for Girl Power, a new and exciting political ideology developed by the girls after listening to the insane rantings of their Great Uncle Karl (that's Mr Marx to you and 1). He was actually the original Tinky Winky Tubby. (Another exclusive, folks.)
The group decided to stretch out in the early 1990s and enter the film industry. Unfortunately a little-known Hollywood law forbids anyone without a penis working in those kind of movies. So they paid a man from their local video store to efront the production of two longforgotten scripts that the girls had written on tour during the 1950s. The titles were Long Shlong Saliva and Deep Throat Girl Power on Heat. The girls decided to go public with their act and gain the international stardom we all felt they deserved. For their first singe we chose 'Wannabe'- a catchy ditty which Baby Spice used to perform with her mother (Barbara Windsor) at the height of the Victorian variety music hall craze. The movies were cult and buck's party hits and still available today from the Sunday Sport video club.
The rest, as they say, is history.
The next chapter of the Spice Girls saga is yet to be written, but we can reveal a secret which even their record company doesn't know. Pictured with us here is Richard (Big Boy) Branson, the man who made Virgin what it is today. (As a note of interest, the reason Richard rushed to sign us up on Virgin Radio was the repayment of an old debt. We lent him the money to buy his first aeroplane-cum-houseboat, and so he returned the favour by giving us our own radio station. Cool huh!)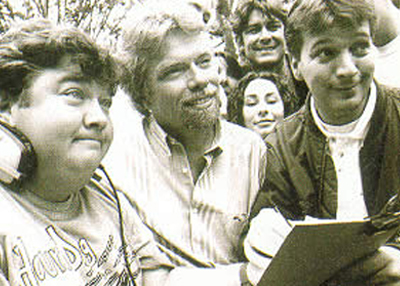 So what's the connection with the Spice Girls, we hear you cry? Well, although it has yet to be announced, we have negotiated Richard's entry (don't tell his wife) into this pop sensation. Richard begged on his hands and knees to be a Spice Girl, and after a chat with the girls themselves, we convinced them it was just the right move for this stage of their career. (The six-figure cash sum helped too.)
So next time you watch Top of the Pops, forget Scary Spice, Baby Spice, Sporty Spice, Posh Spice and Ginger Spice. It's the new Hairy Spice you want to watch for. She'll be making pop history!
Russ and I spend a lot of time with the girls during our crazy showbiz lifestyles. But we draw the line at trimming Hairy Spice's beard line.
And that's OFFICIAL.